Featured Products
Here are some of the new products we are very excited about. Please contact us for pricing.
Manta Helmet
The Manta Multi-Role SAR Helmet is a high performance helmet which has been designed to meet the highest levels of protection combined with the highest possible levels of comfort and usability.
Complies with 9 standards
Search and rescue / Confined Space / CBRN environments
Water rescue / Swift Water / Marine / Ribs / Hovercraft
Forestry fire fighting
Ambulance / E.M.S
Wild land fire fighting / General area search
Maritime Rescue / Coastal Border Security
Technical Rescue / Assistance
Working at height / Urban Climbing
All Terrain Vehicles
Snowmobile / Jet-ski / Quad bike / Equestrian
8 color choices
Many accessories
Cost $249
Tilsatec TTP203 and TTP203 MC Phoenix
Phoenix is our quality Katana seamless knit with a top goatskin leather outer in a driver's style format. The pliable goatskin leather coupled with the cut resistance of our Rhino yarn makes this glove excellent in tough working environments where dexterity is a concern. This glove is often used in railroad, metal fabrication, glass handling, waste management and most material handling applications.
ANSI/ISEA 105 level 4 cut resistance
Maximum EN388 level 5 cut resistance
CPPT 2273 grams
EN388 3,5,4,2
ELECTRIC ARC RESISTANCE: ATPV rating of 37.5 cal./cm2
7 gauge knitted liner
Full grain goatskin leather
Cost $18.50
Rino-Lite
The NEW Rhino-Lite is our most lightweight, comfortable glove yet! The 10 gauge seamless knit glove has a grey polyurethane palm coating which gives outstanding dry grip. The soft, light, comfortable liner can be worn all day long with superb dexterity and touch sensitivity. Providing ASTM Level 4 cut resistance it is an extremely cost effective solution delivering maximum performance and value.
ANSI/ISEA 105 level 4 cut resistance
EN388 level 4 cut resistance
CPPT 2294 grams
EN388 3,4,4,2
Superb comfort and dexterity
Outstanding dry grip
Ideal assembly glove
Extremely cost effective
Cost $8.50
Cosmos Vulcan Fire Boot
NFPA-certified structural and wildland firefighting boots, with a reputation as the best fitting, highest quality, high-performance brand of personal protective footwear available.
NFPA and CSA
Full-grain, water, flame, chemical, and cut resistant leather upper protects your foot and the internal bootie system.
Accordian-style flex point in the Achilles area allows the boot to flex where you do.
Fire-resistant Kevlar thread throughout the upper ensures durability under fire. • Anti-microbial Texon insole provides extra support.
Anti-microbial removable footbed with molded EVA heelcup and arch conforms to your foot providing comfort and support. • Molded heel counter cups heel and provides support.
Anatomically-shaped steel safety toe exceeds all relevant standards for protection.
Tapered microfiber heel slide for ease of donning and doffing. Stitching is offset to prevent premature wear and blisters.
Thermal insulating, open cell polyurethane foam padding is strategically placed throughout the upper for superior comfort and support.
Exclusive full-height bootie system consists of durable Cambrelle liner quilted to 6.0 oz. Nomex/Kevlar felt thermal barrier, laminated to Stedair moisture barrier by Stedfast, Inc., a leader in moisture management systems for the fire services industry. Your feet will stay dry with added thermal protection.
Cost $499 
Veridian Fire Protective Gear
Veridian makes no compromises in constructing comfortable, performance-based fire protective apparel.
Available in 4 styles – Velocity Style recommended- See our vendor File
Starting at $1300 for Rapid ship gear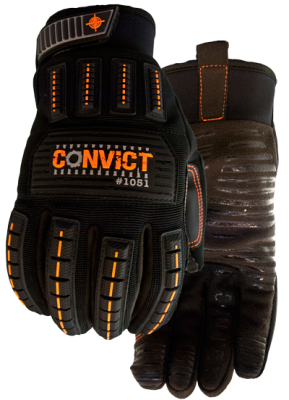 1051 The Breakdown
Ax Suede Deuce micofibre palm and hooded fingertips

Aramid fibre, silicone printed palm

Spandex back

Texturized PVC thumb saddle

Heavy duty rubber on knuckle bar

Fingers and thumb

Neoprene cuff with secure Velcro® closure

EN388 Cut Level 5 (3543)

ANSI Cut 4 (1662g)
Cost $35
3715 LED Photoluminescent Flashlight
Pelican leads the way yet again with its new right angle light. Featuring downcast LEDs for illuminating your path, the new 3715 LED light also features 174 lumens (high) and 95 lumens (low), and a signaling mode.
Another first is a built in battery life indicator so you will know your light's battery level before you go in.
Secure clip for hands-free use
4 mode battery level indicating button
Photoluminescent shroud (optional)
Tethered battery door allows for quick battery change
Locking wheel securely holds 4 AA batteries
4 modes High/Low/Downcast/Signaling
Cost $150
The Evacuation Chair Excel model
At Rescue7, we are proud to be the exclusive North American distributor of the inventive and easy-to-use Evacusafe Chair.  We believe this state-of-the-art emergency evacuation chair blows away the competition, and we are sure you'll be similarly impressed.  The Rescue 7 Evacusafe Chair is designed for smooth operation on stairways and fire escapes, as well as along flat surfaces.  It's a snap to use and is so advanced a single person can easily operate the chair on a wide variety of stairs. See how easy it is, click on the video below.
The Rescue 7 Evacusafe Chair is a health and safety must in buildings where an emergency would require a safe and comfortable evacuation of mobility impaired people.
Emergencies include fires, power outages, bomb scares or natural disasters like ice storms or earthquakes – anything that would render elevators inoperable.  Those in need of immediate evacuation down stairs would include people who are:
In wheelchairs
Elderly
Physically incapacitated (injured)
On medications
Pregnant
Suffering from a medical condition
Features and Benefits:
Flat comfortable seat
Weight bearing arm rests
Leg support strap
Ideal for stairway evacuation, either up or down stairs
Foot rest
One-step setup offers fast deployments and ease of use
Full chest support strap (quick release)
Extremely versatile for optimum maneuverability
Foot operated brake
Cushioned head rest
Larger load capacity of 160Kg
Built in carry handles that can be used to go up stairs
Cost $1995